DIRTIER ....The Newsletter


Volume 40 19 October 2012

Dianne B

Another beautiful thing about the Beautyberries, aside from their name (Callicarpa to be botanical) is not only are their pendulous branches beautiful to our eyes, but the birds just go mad for them…especially these red-breasted robins. The great thing is the abundant berries provide plenty for them to eat and for us
to swoon over…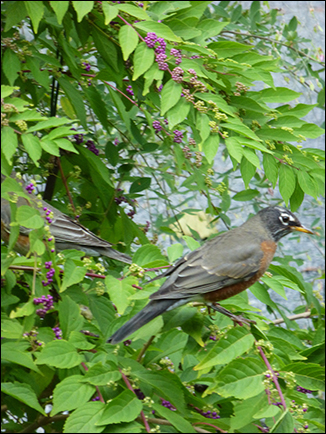 A GORGEOUS DAY
What began as another dreary, grey, gloomy day suddenly took
on autumn splendor around 2 in the afternoon.
Suddenly too warm for a sweathshirt (yes, I have two beloved
old Issey Miyake sweatshirts) but perfect for the rigors of digging in. After three days of rain the earth yields to making holes and is pliable
enough to welcome weeding – all this corresponding with the
arrival of Spring Bulbs – can anything be better?

First to go in the ground are the premium tubers from
Odyssey Bulbs. They are deservedly more expensive because
they are fatter and more alive with roots and growth tips
than any of the others.
Look at these Arum pictum I planted last year –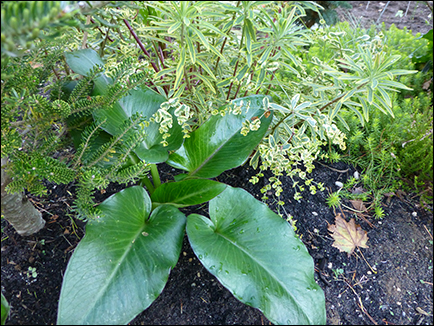 So luscious.
These glossy leaves have just appeared -
exactly when you need something fresh.
So, this year I am planting Arum discoridis
to grow nearby.

Plus this year I am giddy with several new colors of Corydalis and
an Erythronium called 'Purple King'.

You see, Odyssey has the odd specie and color unavailable
anywhere else ( that I'm aware of) and the owner
Russell Stafford converses with you personally
(which I adore – even when he tells me he is sold out).
There are a few pictures on line, but the descriptions are very visual.

And speaking of bulb sources – it only
makes sense to go with the best.
Here is proof: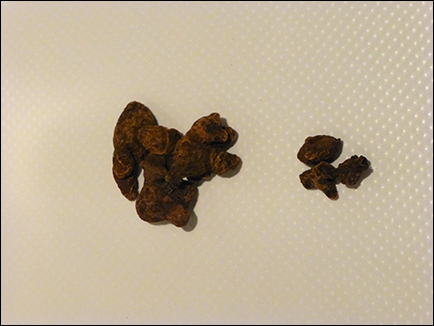 These are Anemone coronaria tubers. The three fat ones
on the left are from John Scheepers - the three puny
scrawny withered ones on the right are from another source.
It shall go nameless, but it begins with B and they
send millions of catalogues.
Get your bulbs from the good guys:

Brentandbeckysbulbs.com
John Scheepers and VanEngelen (for quantities of 50, 100 like that)
McClure & Zimmerman
And Odyssey, of course


Don't forget to plant the fleshy tuberous things first as well as the more fragile Fritillaria...and lilies . Oh yes, and do soak those funny looking anemones overnight before planting – I think it makes
all the difference.



A LILY PHENOMENA

An Easter Lily is absolutely the paradigmatic
essence of spring, is it not?
Here is one is blooming like mad from the beginning of September!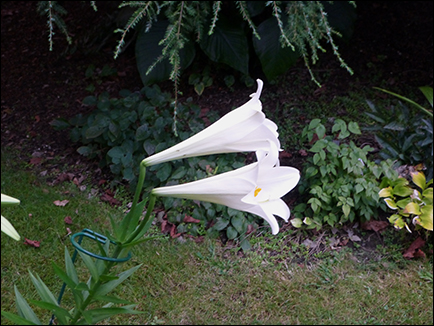 That calls for an exclamation point.

Our congregation is invited to take the potted lilies from the altar on the Sunday after Easter, which is what this happens to be.
Of course, I looked for the plumpest tallest one and immediately
came home and planted it in an unlikely spot where I never expected
it to flourish…you never know when the next little miracle might occur.

And today - the 17th of October -
there are 2 big fat new buds !
ANOTHER SORT OF PHENOMENA

This is a fantastic Lily squagmira, and although I have never had
much luck with them - at LongHouse they are flourishing.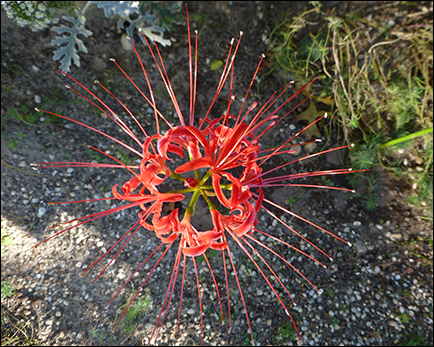 As is the gargantuan and divine Tropical Garden installed by Dennis Schrader of the great LandCraft Environments.
You cannot appreciate these pictures without understanding the scale…This dark banana leaf is probably 10 feet tall.




This Colocasia 'Thailand Giant' may be 7 or 8 feet across,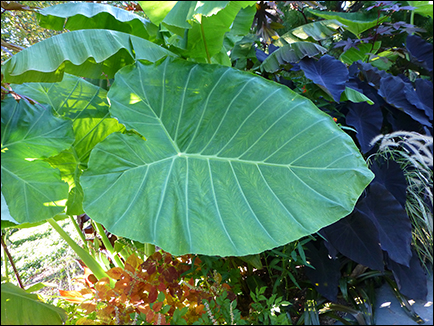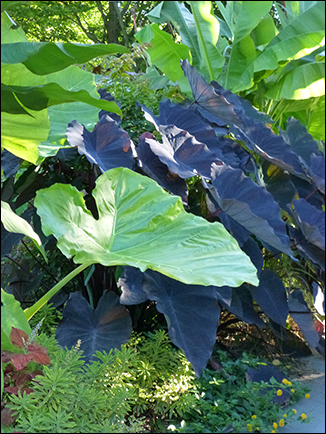 with color nuances that are divine:
Look at the way the Purply shine of the Strobilanthes picks
up the purple in the thorns of that crazy jagged-edge chartreuse
thing. Wild. …and to think at the beginning of June it looked like, well…nothing.
Oh, the jungle is a powerful place...
think of how it almost devoured all of those Mayan temples.

And for the first time ever -
everyone is invited to watch the spectacular season change
at LongHouse

Now open every Saturday from
12 - 3:30 PM


SOMETHING ELSE TO DO IN NEW ENGLAND

If you are among the ultimate watchers of the amazing turning
of the autumn leaves who travel for the pleasure, then you might be soon visiting New England.
If so – head straight to Salem, Massachusetts
and the Peabody Essex Museum.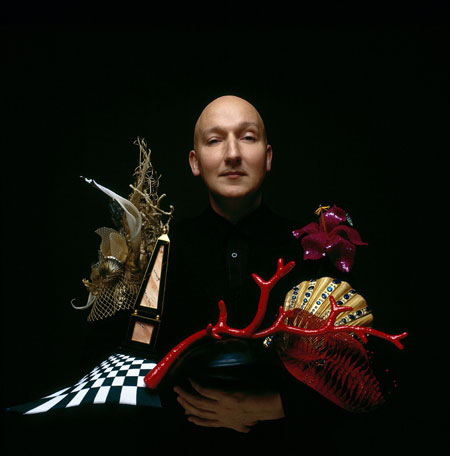 There you will find the divine
Stephen Jones who has been my favorite milliner since I carried his marvelous chapeaux in my Dianne B. stores in the 80's.
I've seen this show
(he curated, and there are many great hats) –
it is excessively stylish…
and funny too.

Bet you never knew where the word "milliner" came from, did you?



MY AFFECTION for WHITE VARIEGATES

...increases by leaps and bounds at summer's end and during
these weeks while the leaves begin to turn.
It seems the variegation is at its richest…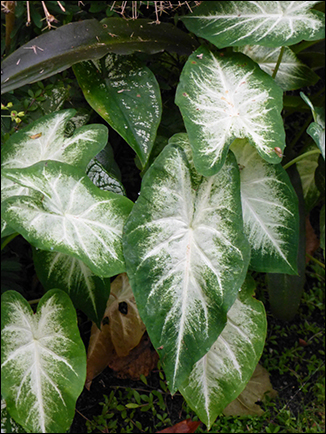 Caladium Aaron at its peak.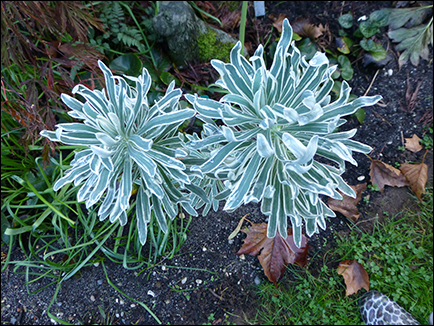 This gorgeous Euphorbia is aptly called 'Glacier Blue' and
for me seems much hardier and more dependable than the
trying-to-be-popular 'Tasmanian Tiger', which looks great at
nurseries and in catalogues, but hasn't survived for me
after many tries.
E. 'Glacier Blue' from Forestfarm – who else?

This time of year is when the historical old
Iris pallida 'Variegata looks its finest too.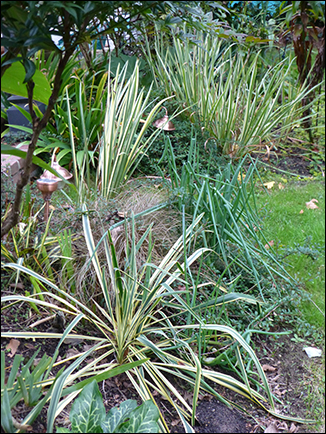 And what is there to say about
Colocasia Nancy's Revenge?
This giant elephant's ear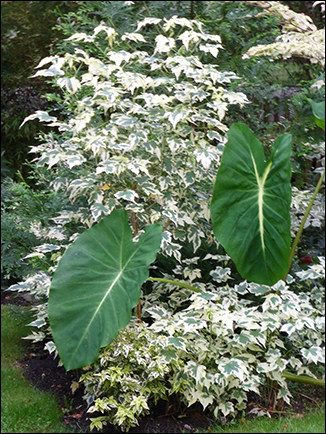 takes patience – the white central markings don't begin to
appear until mid-August -
but - then - it is spectacular.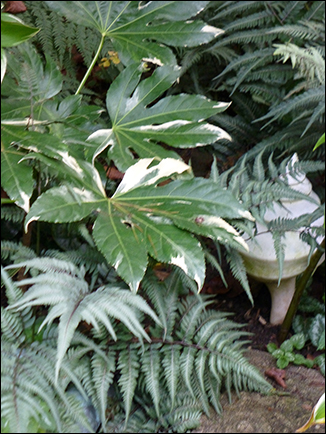 As is this Fatsia - stongly marked with one just-emerged,
gorgeous, all-white leaf tucked behind
Adam Kurtzman's bronze hand.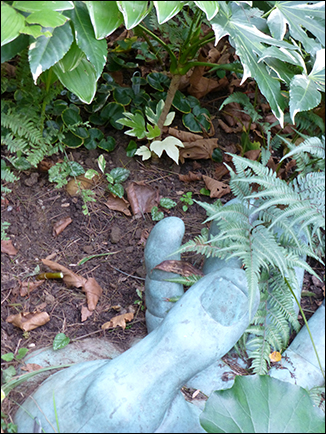 More wonders from LandCraft HOT Plants.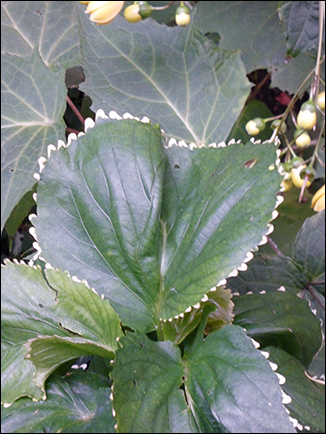 Apocalypha - a real tropical.
Not only a white picotee edge, but a scalloped white picotee edge.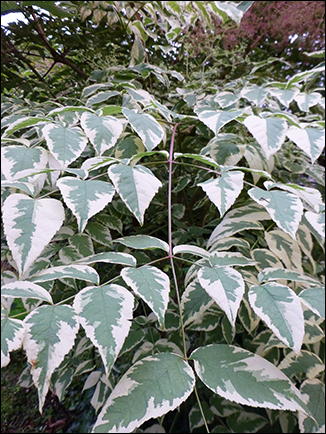 Aralia elata Silver Umbrellas dies down to
a stick of a trunk in winter...
but look at it now.
I got this one from Broken Arrow in 2008.
It's a good thing too, because now I think they are condemned?
I read that they are dangerously invasive, but it seems to me
if you keep after the runners -
no problem - only beauty

And to veer off the white track for one moment …this melange of
green and gold is definitely inspired…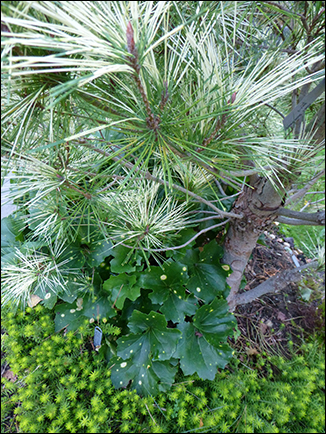 Pinus densiflora 'Oculis Draconis'
(quite a big title for this Tiger's Eye pine which had withstood
much maltreatment as I moved it from spot to spot until it arrived
at this one in hospitable full-sun)
underplanted with Farfugium 'Crested Leopard'
and the best gold ground cover (even better than Lysimachia nummularia ) is Sedum 'Angelina".

It makes me proud.
And certainly reinforces gardening as my singular favorite therapy.

AND WHAT MAKES YOU HAPPY?
This 20 foot wide 12 bottom plow is what makes our Favorite Farmer, John Hoff, just simply go over the moon.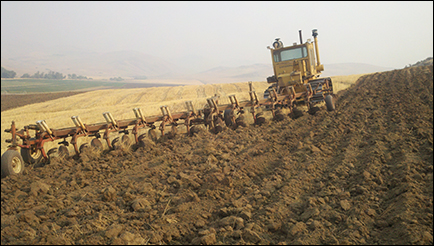 He is our endeared Pure Steel Shovel maker and has gallantly made time in this hectic autumn season of planting and plowing to fill a superfast order for us…
If you are thinking of our one-of-a-kind lasts-forever
monogrammed high-gauge stainless shovel for your
gardening beloveds for Christmas …put in your orders now
and we will all be ahead of the game…

Nothing says
"look how I thought of you"
as endearingly as a Monogrammed Shovel
.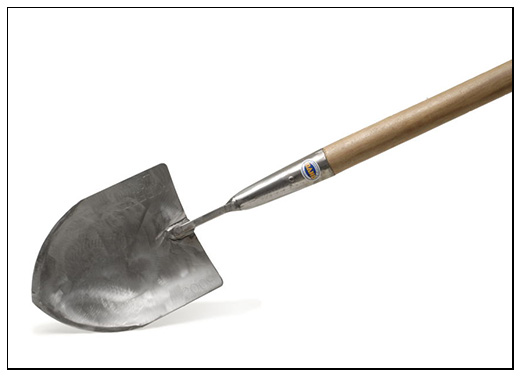 But Preen Organic Vegetable Garden weed killer really works.
One of the few perks of being a garden writer, this kind of
company sends me big containers of its products to try.
Well – I figured if it is OK for vegetables, it would be OK around
my varied plantings, so I have tried it in some unlikely places, in almost full sun and almost deep shade – and it works.
The trick is that the area must be weed free when you sprinkle the little pellets on
(it doesn't smell and it doesn't kill weeds that are already there)
and sure, a few unwanted things peep up here and there but by
and large – it really works.

MORE GROUNDCOVER – don't wince…
In preparation for my new book, on the unlikely subject of Groundcovers: The Garden's Carpet, on and off I have been
giving you a few sneak previews of favored and enthralling combinations…Here are a few more:
Painters Palette and Epimedium are a smart combination
because they are interesting at opposite ends of the
seasonal spectrum.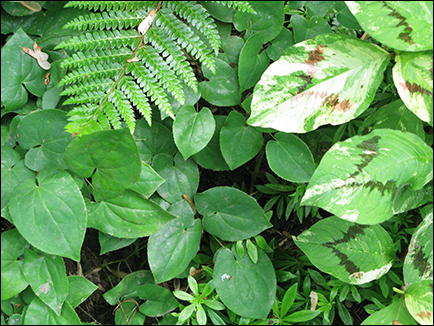 And, of course, Lamium, everyday violets, Japanese Painted
Fern and variegated Petasites go with everything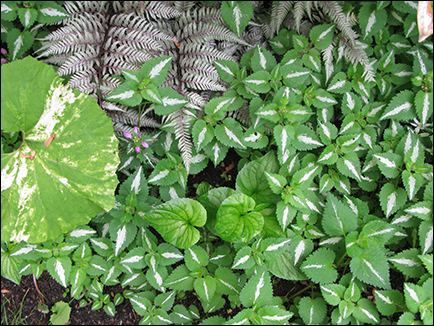 Combinations are absolutely endless…more next time as this
idea knows no end...

And who said Groundcovers are boring....

LATE SEPTEMBER REFLECTIONS
A Singular NEW TRAIT.
This is a Colocasia that is sending out little rootlets and babies
from its fallen stem….I always learn best about propagation by
things that happen accidentally –
as I am lousy with seeds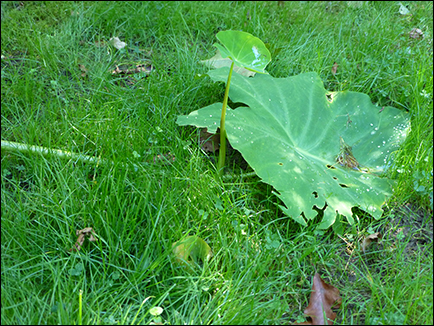 Tricyrtus do not like sun.
The leaves burn up, especially on the weeping kind T. hirta, and
you can't appreciate the wonderful orchid-like flowers that
smother the stems.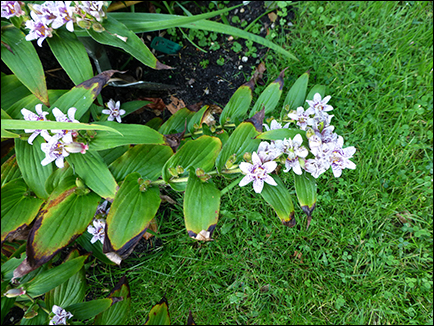 See this more graceful, greener one is growing, literally,
in the dark between the house and a
20 foot Himalayan pine.
So, I think it's a question
of too much sun?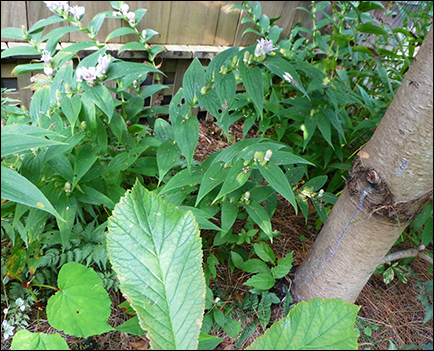 Tricyrtus also spreads itself around like mad….

Black Mondo Grass takes patience,
but after five or six years – here it is fighting for space
with the fresh leaves of Muscari.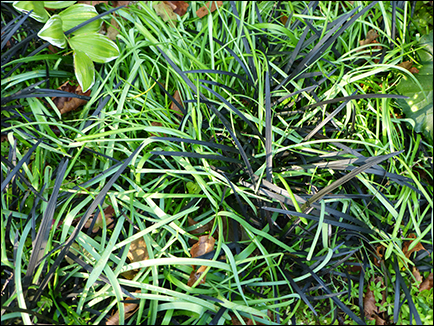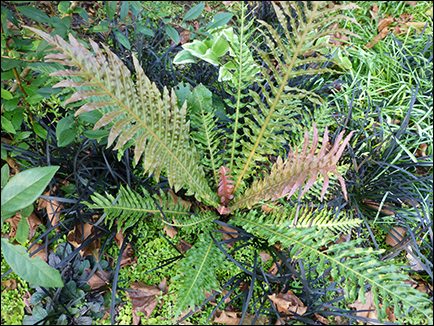 It's especially nice to watch things flourish when dug
from a friend's garden – in this case April Gornick - she is a gardener
when she is not making an exotic painting
(her special brand of exoticism)

And when does a butterfly not seem like a jewel of nature…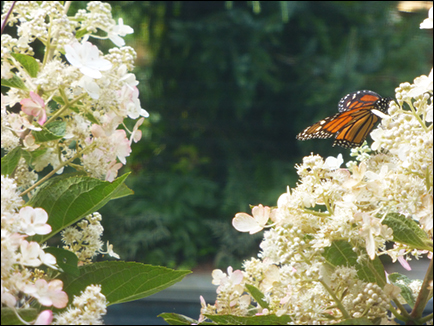 THE DOGS ON THEIR WAY TO CHURCH…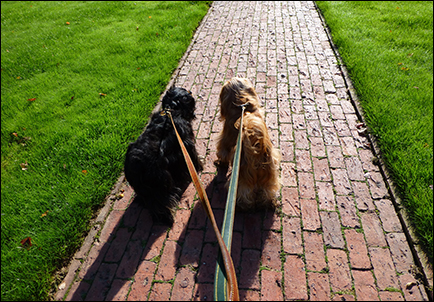 Yes, they are actually on the Red Brick Road to St. Luke's a few
weeks ago on Pet Sunday, which takes pride of place on our
early October calendar


AN AMAZING VOODOO LILY BULB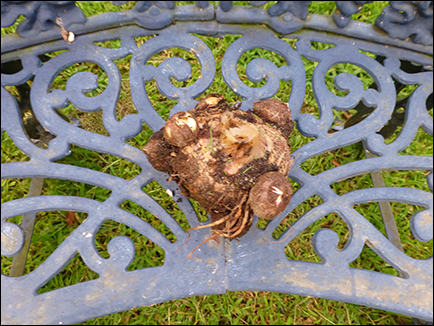 This is one giant Voodoo bulb and see the plenteous attached bulblets (babies). It makes me think maybe the Bulb Business is more
interesting (read, lucrative) than the Tool Business.

And though the fabulous world of self-sustaining bulbs is probably far less tricky than Rockii Tree Peonies from China…
for the time being, I will stick with the Tool Business.

Speaking of which – our inventory is all fattened up for the
oncoming gift-giving season…

And one more thing...

There is a lot of talk in the gardening world these days about
the demise of Impatiens to a rampant foliar disease called
Downy Mildew. These are two of three Limonius gentlemen
of Buckley's Farm in East Hampton.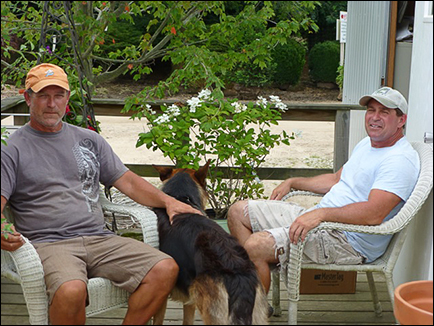 They are intently discussing this new plague.
I trust this family enormously and go to them with my every question and whim, but as they explained to me how this Impatiens
blight is bad for their business, I couldn't help but think that it
just might be a boon to other ideas.
In the place of all those boring look-alike Impatiens -
there are dozens of
infinitely more interesting choices.
Look at any of the pictures
in this edition of Dirtier, for example.

And please see my other site,

Dianne B Gardens

, for even more
ideas... that, you know.... I would love to help you implement .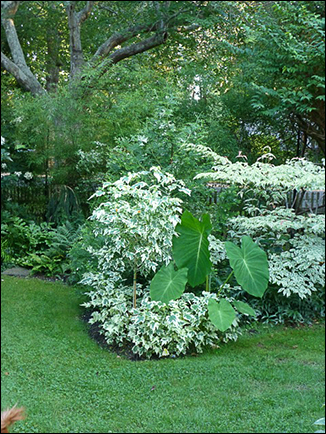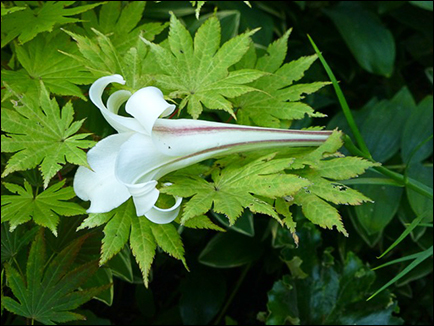 And whatever else you do --- don't forget to vote...

ONLY 19 DAYS till Voting Day...
I'm with Bill, the Big Dog (or Maximus Canine) and can't wait until
Our President
can stop campaigning
and get back to work...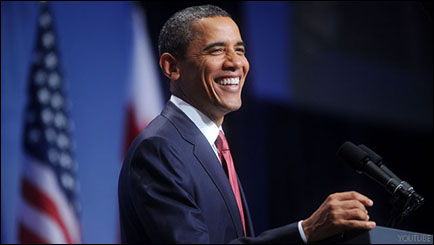 New parks are just one of the things we have to look forward to...
Yesterday, Governor Cuomo announced the opening of a
new New York state park, located on Roosevelt Island in New York City.
Four Freedoms Park, which is New York's 214th state park,
is an enduring tribute to the life and work of President
Franklin D. Roosevelt, a former governor of New York State who
as President led our nation out of the Great Depression and
guided America to victory in World War II.

The park, which has been decades in the making with the help
of private funds, is the last design of the iconic American
architect Louis I. Kahn – the only design by Kahn in New York City. The name of the park refers to a speech delivered by President Roosevelt on January 6, 1941, in which he described his vision for
a world founded on four essential human freedoms: freedom of speech and expression, freedom of worship, freedom from want,
and freedom from fear.

Click here to read more about the history of the park.

Four Freedoms Park will be open to the public on October 24.

Sincerely, The Office of the Governor